Cargill donates an ambulance and Rapid Test Kits to support local government in handling COVID-19 pandemic
Jakarta, 15 May 2020 - Through PT Hindoli oil palm plantation, Cargill has donated an ambulance complete with medical equipment for the Musi Banyuasin Indonesian Red Cross (PMI) in response to curbing the COVID-19 pandemic. With the increasing spread of the COVID-19 pandemic, assistance in the health sector is Cargill's priority to support medical staff serving the community.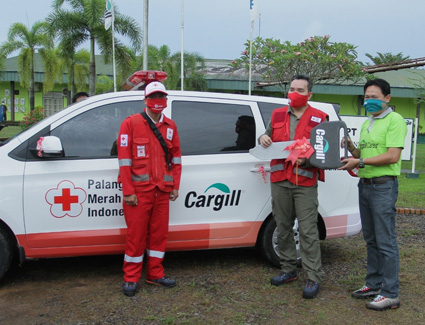 The ambulance donation is the continuation of a series of Cargill's support in the health sector to prevent the spread of COVID-19 in Musi Banyuasin District, South Sumatra. In addition to the ambulance, Cargill also has donated almost 900 COVID-19 IgM/IgG Rapid Test kits to the District Health Offices in Musi Banyuasin and Banyuasin Districts, South Sumatera and to community health centers in Ketapang Districts, West Kalimantan. The COVID-19 IgM/IgG Rapid Test kits donation is also to prevent COVID-19 spread.
"We thank Cargill for their attention and contribution to the Musi Banyuasin PMI in the form of an ambulance unit complete with medical equipment in it," said Beni Hernedi, Chair of the Musi Banyuasin PMI. The assistance of one ambulance unit for the PMI was very useful because it increased the number of health fleets that were much needed during the COVID-19 pandemic and also helped the Musi Banyuasin PMI activities to support humanitarian tasks."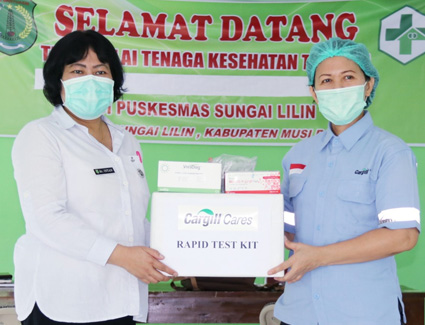 Richard Low, Chief Executive Officer, Cargill Tropical Palm, said, "Cargill prioritizes assistance for health because hospitals and medical staff are at the forefront of handling COVID-19. For this reason, we collaborate with the Puskesmas, the Regional General Hospital (RSUD) and the local PMI by donating an ambulance to reflect our support. We are grateful for the cooperation and prevention efforts undertaken by all parties to prevent the spread of COVID-19."
Previously, Cargill had provided support to prevent the spread of COVID-19 in Banyuasin District and Musi Banyuasin District, South Sumatra and Ketapang, West Kalimantan by implementing programs to raise public awareness through educational material that provided information about the Corona virus, assisted disinfection activities, provided equipment personal protective equipment (PPE) and medical equipment for Puskesmas, RSUD, the Health Service and the Department of Agriculture, Animal Husbandry and Plantation, as well as the distribution of public health equipment such as cloth masks, disinfectant spraying machines, hand sanitizers, infrared thermometers to basic food needs.
Cargill employees have helped to prepare and distribute these donations across 11 villages within six sub-districts in Banyuasin and Musi Banyuasin district, and 40 villages within six sub-districts in Ketapang. Cargill will continue to distribute these donations to local communities surrounding its plantation areas as well as to the local COVID-19 task force during the emergency period of the COVID-19 pandemic.
In addition to helping communities around the plantation areas, Cargill has also implemented preventive measures at its facilities and plantation areas. Employees and contractors have their temperatures checked daily and are required to maintain a physical distance of one to two meters at worksites, including in transport vehicles. Cargill has also given masks and a thermometer for every worker and their family, totaling over 140.000 masks and almost 24000 thermometers. Doctors and paramedics in these locations have also been trained in the appropriate emergency response protocols, in accordance to the government's guidelines.
Cargill is monitoring the pandemic closely in Indonesia, and globally, and remains ready to implement new measures in accordance with any changes to national guidelines, ensuring that all Cargill plantations remain a safe workplace for all employees, contractors, and their family members. Cargill's global and regional COVID-19 response is guided by our purpose to nourish the world in a safe, responsible and sustainable way.
This is just one example of how Cargill is working with our nonprofit and NGO partners around the globe to help address food security, health and safety needs and agriculture and food industry challenges due to the spread of COVID-19. In addition to monetary donations, we are collaborating with nonprofits around the globe to donate food, ingredients, and other high-need products for those who are vulnerable during this pandemic. For example, Cargill has donated nearly 1 million pounds of food to food shelves and hunger relief efforts in local communities where our employees live and work. Cargill's global and regional COVID-19 response is guided by our purpose to nourish the world in a safe, responsible, and sustainable way.
Media Contact: [email protected]
---
About Cargill
Cargill's 155,000 employees across 70 countries work relentlessly to achieve our purpose of nourishing the world in a safe, responsible and sustainable way. Every day, we connect farmers with markets, customers with ingredients, and people and animals with the food they need to thrive. We combine 155 years of experience with new technologies and insights to serve as a trusted partner for food, agriculture, financial and industrial customers in more than 125 countries. Side-by-side, we are building a stronger, sustainable future for agriculture. For more information, visit Cargill.com and our News Center.
About Cargill in Indonesia
Cargill began doing business in Indonesia in 1974 by establishing a feed mill in Bogor, West Java. Today, Cargill is headquartered in Jakarta and has more than 19,000 employees. We have 60 locations with offices, manufacturing plants and facilities throughout the country and business activities comprise animal nutrition, cocoa, copra, seaweed, processed food exporting, grain and oilseeds, palm oil, as well as starches and sweeteners. For further information please visit Cargill.co.id